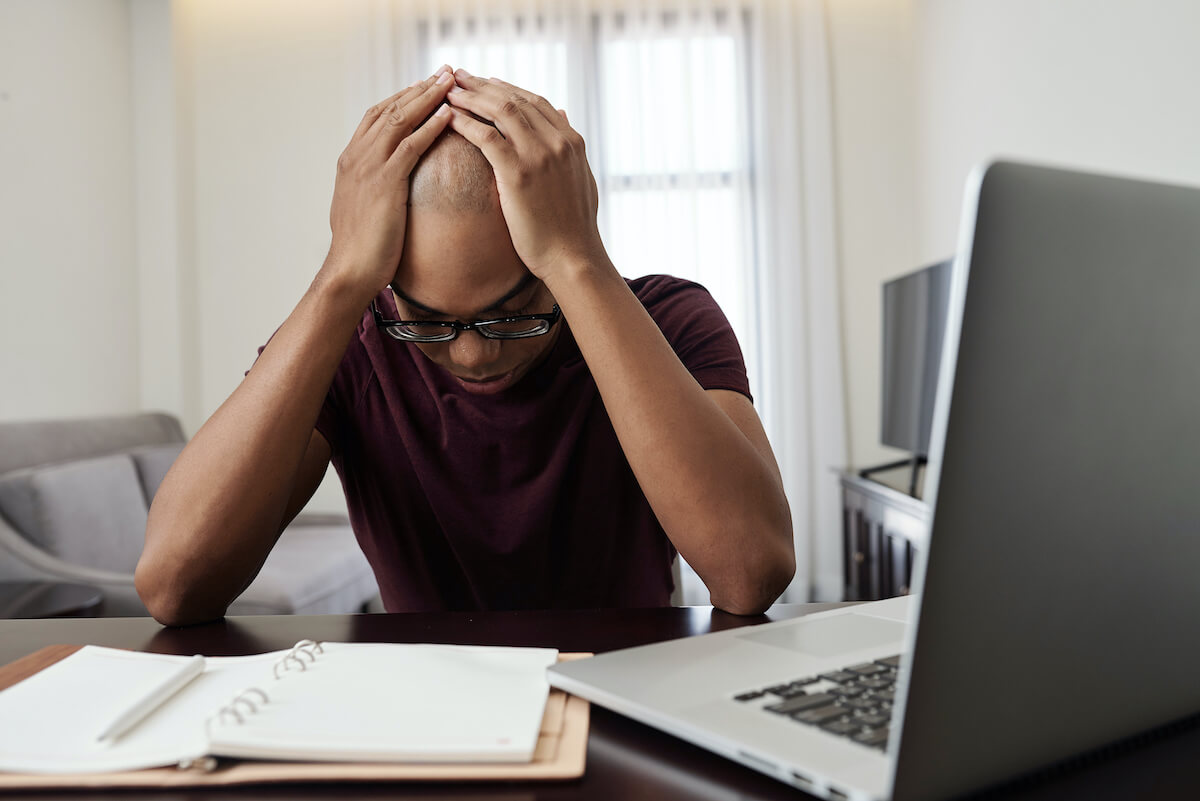 Overstudying: How Much Studying Is Too Much?
Students of all ages know what it's like to feel stressed before an upcoming exam, and most know that they need to study to achieve a high grade. Instead of cramming or overstudying, we can help students learn to use their time efficiently and implement effective study strategies for review, recall, and time management.
However, many students struggle to develop healthy study habits and know how much studying is too much. Study strategies will vary based on the class, student abilities and preferences, plus many other factors. There is no set number of hours or time frame that a student should study for the best outcome.
Many students default to overstudying when they are unsure of how much or when to study for the best results. Contemporary society and hustle culture stress hard work above most else, and this ethos has imbued academic life just as much as professional life. The prevalence of overstudying is a reflection of these social norms but constitutes a worrying trend nonetheless.
I recently spoke with a 6th grade student's parent who described how much his child had been studying for tests. He stated that "you can never study too much or be too prepared." Working harder to get ahead is an obviously well-intentioned sentiment for many students. However, it may be misguided, especially for middle or high school students.
While we can all agree that healthy study habits are a critically important factor for academic success, there is such a thing as too much studying. Overpreparation in the form of overstudying can have a variety of negative consequences for students in school performance, physical and mental health, and relationships with friends and parents.
What is Overstudying?
Many students wonder, "How much studying is too much?" There is no definitive or one-size-fits-all answer to what defines too much studying versus healthy study habits. However, simply observing human nature forces us to acknowledge the limitations of our attention spans. Our shared human experience reinforces how difficult it is to focus on one task or concept for an extended period. Overstudying is any situation in which studying or preparing for an assessment is no longer productive or becomes counterproductive.
Why Does Overstudying Happen?
Overstudying often becomes encouraged, even if implicitly, as the way to score highly on exams and achieve those high grades. While we live in a society where working to excess is frequently viewed as a positive thing, the negative implications of overstudying are myriad.
Our society and education system often emphasize school performance as the most crucial aspect of students' identity. The achievement of good grades is stressed as the best way to get into an elite college or university and, later, achieve professional success.
In order to avoid even more obstacles to their success, high school and college students need to practice good study habits that help them avoid overstudying. Some examples of good study habits include scheduling study breaks, implementing recall strategies beyond memorization, knowing when to stop, and getting enough sleep.
How much studying is too much studying?
Students must never devote more than 50% of their free time to studying. Students who tend to overstudy need to take breaks every so often. However, it may be difficult to remember that taking breaks is essential for preventing overstudying.
It is helpful to look at taking a break from studying as another scheduled task on their todo list. One method to try is The Pomodoro Technique, which requires taking short breaks throughout a study or work session, can be a valuable method to avoid overstudying.
How To Use The Pomodoro Technique to Improve Study Habits
Pick an assignment or task to work on.
Determine how much time will be required to finish it.
Open any time tracking app and set it for 25 minutes.
Spend the next 25 minutes focused on studying and blocking out all distractions.
When the timer goes off, take a 5 minute break. Get up stretch, get a drink, and relax.
Start another 25 minute session of uninterrupted study.
After completing four 25 minute study blocks, take a 30 minute break before you resume.
What are the negative effects of overstudying?
Self-Doubt
Self doubt has a severe negative effect on both students' short term and long-term academic success. It can be a vicious circle. Doubting one's ability to master a subject, pass challenging classes, or impress teachers can lead to a student studying too much. Students may question their ability to monitor and assess when they feel ready for a given task.
Loss of Time for Other Activities
When too much time is spent studying, past the point of efficacy, students lose out on valuable social activities, exercise, and sleep. Work-life balance is vital for students of all ages. When they no longer have adequate time for friends, fun, and hobbies, they are more likely to experience high stress, anxiety, or depression.
Perfectionist Tendencies
Making mistakes is an essential aspect of life and learning, and overstudying may lead students to expect nothing less than a perfect score or grade from themselves. One peer-reviewed study has even linked OCD and overstudying behaviors. The link between OCD and overstudying resembles a chicken-egg situation in that we do not know which comes first. Overstudying seems to exacerbate existing OCD tendencies, at the very least.
Diminished Returns on Academic Performance
The goal of overstudying is to attain high grades. However, overstudying can lead to loss of focus and reduced ability to retain and recall information. Therefore, overstudying may have the opposite of its desired effect and cause students increasing worry but no improvement in their grades.
Relationship and Social Impairment
Recent research shows that overstudying behavior in students may lead to reduced social functioning. Students who overstudy are more likely to withdraw from regular social activity. This lack of social life experience could negatively affect their social and psychological well being down the line.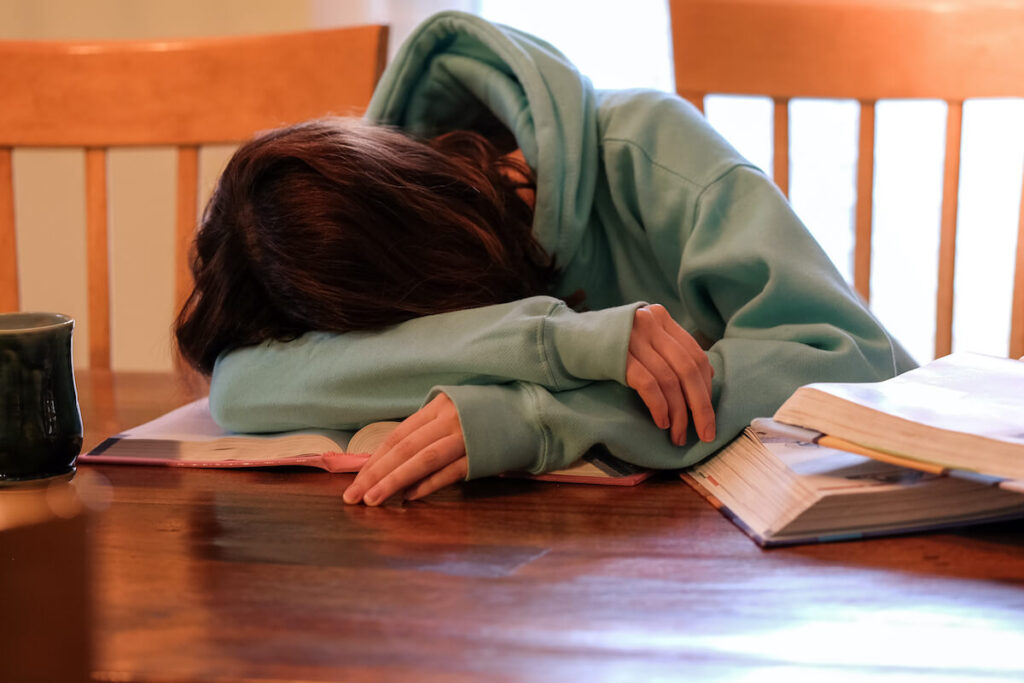 Signs and Symptoms of Overstudying That Are Common Among College Students
Poor sleep
Quality sleep is critical for processing information and is, therefore, an essential component of learning and memory consolidation. Getting a good night's sleep also assists with many other physiological processes that govern our physical and mental health, such as muscle repair.
Sleep deprivation can lead to an inability to concentrate on important tasks such as studying, leading to mood instability and lethargy. Research has demonstrated that people who fail to get enough sleep will be more prone to adverse consequences. The effects of lack of sleep can include stress, heart disease, and other ailments that can affect the body and mind.
Physical and mental exhaustion
While it's true that overstudying will not lead to brain damage or insanity, too much studying is bad for physical and mental health. Studying too much is associated with various actual physical signs and symptoms. Overstudying can cause long term physical symptoms similar to what many people experience as burnout, including poor sleep, head aches, stomach aches, and digestive issues.
Exhaustion may be the result of sleep deprivation due to late nights spent studying, but feeling extremely tired may also indicate psychological exhaustion similar to burnout. Burnout results when students feel overly stressed and overwhelmed due to a real or perceived need to study beyond the point of what is healthy or productive. Overstudying without periods of good sleep and socializing with friends can produce real physical signs of exhaustion.
Increased levels of anxiety or depression
Good study habits encourage balance, efficiency, and a healthy lifestyle that is both productive and enjoyable. While some students who overstudy may be predisposed to increased anxiety or depression, studying to excess only exacerbates stress levels and perpetuates preexisting mental health challenges.
Decreased social engagement
When students, especially those in college, withdraw from typical social activities, it may be a sign of overstudying. Students who are having a hard time balancing work with sleep and social activities with friends may simply become withdrawn and spend more time studying. Overstudying can become part of a vicious cycle in which more time studying causes greater mental health deterioration, which in turn leads to greater social withdrawal, thus beginning the cycle again.
Reduced levels of productivity
Even though it seems counterintuitive, overstudying does not result in better grades and retention, but it actually hinders it. Students need adequate time to process information and enough sleep to manage stress levels to maintain focus and work effort. Students should be taught appropriate and healthy study habits at a young age so that by the time they reach high school, let alone college, they are less prone to overstudying and more likely to succeed with less effort.
4 Simple Tips to Avoid Overstudying
1. Review class notes and material every day.
Spend at least one hour per day reviewing what you're learning. Avoid cramming the day or night before a test by studying as you go through a course and getting questions answered right away. Make a note of any subjects you're stressed about or tasks you know will take more time to complete.
2. Take study breaks.
Use a planner or scheduler or a timer on your phone to schedule study sessions with adequate breaks. A quick 5-10 minute stretch, water, or snack break can do wonders to help us refresh and refocus.
3. Prioritize sleep.
All the studying in the world will not matter if you don't get enough rest and sleep to allow your brain to process information. Likewise, sleep deprivation will hinder recall efforts on test day, rendering your preparation meaningless. Studying is like exercise- it won't be effective if your sleep habits are inadequate.
4. Use metacognition and self-talk.
It requires some practice, but creating helpful messages to talk yourself through stressful and challenging situations will alleviate the tendency to study hard or study late. As you review material, remind yourself that you know what you know to boost your sense of self-efficacy and reduce self-doubt. Self doubt is often one factor that leads to overstudying, so practice by flexing this muscle.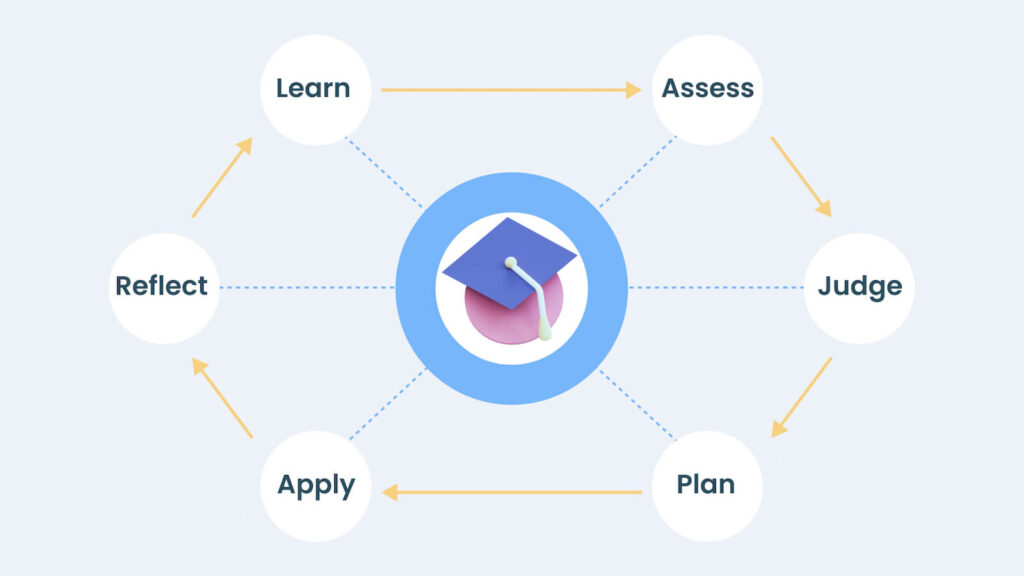 Better Study Habits Now, Better Grades Forever
It's hard for many students and parents to escape the social pressure to succeed. The stress can lead to students feeling they need to be "perfect" at almost any cost. The education system continues to push for constant tests and assessments, often sacrificing valuable instruction on how to study the right way. Students feel the need to spend an exhaustive amount of time studying.
Overstudying can occur as early as elementary school and affects students of all ages. College students may be particularly vulnerable to the negative effects of overstudying, as the pressure to achieve high grades may overshadow concerns about living a healthy or balanced life.
Overstudying is unlikely to boost academic performance, but it is more likely to be counterproductive. Prolonged overstudying can become a significant hindrance to student performance and outcomes. Additionally, overstudying can wreak havoc on students' mental and physical health by causing extreme fatigue and leading to burnout due to increased stress levels and lack of sleep.
Developing healthy and productive study habits is a long game. It will result in better academic performance and a healthy and sustainable work life balance. Contact The Savvy Tutor to discuss how you or your child can benefit from improving work habits and study skills for academic success!
"Patient, understanding and very supportive …"
Having Alex as a tutor was amazing. She is patient, understanding and very supportive in many ways. Alex not only helped our son with his writing and vocabulary, she helped him organize his thoughts and strengthen his study skills. I highly recommend Alex as a tutor.
"Personalized teaching style, depth of knowledge, attentive manner"
When there are so many great things that can be said about a person, it is hard to find the right words that truly satisfy that person's character. I first began working with Alex when I was a freshman in high school. Not having success with previous tutors, I concluded that tutors simply are not for me. However, Alex showed me otherwise; her personalized teaching style, depth of knowledge, attentive manner, and even sense of humor is above any tutor I've ever encountered. Beyond the skills that make Alex an effective yet enjoyable tutor, she also provides insight and guidance to those who are struggling in certain areas of their life. I have sought Alex's help with challenges both big and small, and she always steers me in the right direction while teaching me important life skills in the process. As I am now approaching my senior year, I am overwhelmed with feelings of confidence and excitement because I know that I will have Alex by my side.
"Effective, Articulate Advocate"
I hired Alex to help me obtain a private school placement at the district's expense for my 3rd grader, who is nonverbal and autistic. After hiring an ineffective attorney for the same purpose when my son was in first grade, Alex was able to accomplish this goal and got my son a placement in a specialized, private school program. While this endeavor took months of work, meetings, emails, and school visits to accomplish, my son is now in an appropriate program where he is able to learn and thrive. Additionally, Alex was able to get the school district to provide every single service, accommodation, and technology that I was requesting for my son. Alex is assertive, articulate, and knows the law and best educational practices. As such, she effectively and vociferously advocated on my son's behalf and accomplished all of my goals. I highly recommend her to anyone in need of an advocate!
"High Quality Tutor"
Alex is a highly skilled and knowledgeable writing teacher. Warm and nurturing. Reliable. Made learning meaningful, engaging and fun. Definitely recommend and will use again.
"Knowledgable and Dedicated"
I must admit that I was absolutely fortunate when I stumbled upon Alex's website during my internet search a year and a half ago. I was desperately looking for someone to proof read my papers and assist in guiding me throughout the pursuit of my doctorate degree. With the guidance, support, and constructive criticism from this very knowledgeable, insightful, and patient individual I received As in all my courses. I truly enjoyed working with Alex.
"The Best Tutor"
Alex is very well-versed and knowledgeable about many subjects. I have not been in school in over 20 years and now I am back to obtain my doctorate degree. Alex has helped me get organized and has assisted me with my APA citations, grammar, and word choice. My writing skills have improved significantly and every one of my papers has received an A. Alex has provided me with the skills I need to continue my studies. I am so lucky to have met Alex.
"Awesome Teacher and Person"
Amanda: I am a student of Alex's. I would recommend Alex to other students because she pushes you, gives you confidence, and she has a great sense of humor. She turns around any of your negative feelings into positive ones so you can believe in yourself to succeed.
Doretta: I am Amanda's mom. Alex has a tremendous amount of patience. She is creative, funny, and very knowledgeable of her material. Alex tutored my daughter to obtain a driving permit. This was a major challenge for Amanda. Aside from needing help to learn the material, Amanda also has severe test anxiety. Amanda also has had many many tutors throughout her life. Alex not only helped Amanda learn the material and prepare for the test, but also made her believe in herself and decreased her anxiety. She is truly an awesome teacher and person. I highly recommend her to any struggling student.
"Hardworking and dedicated"
Alex is a hard working and extremely dedicated person. Not only is she able to help me better understand what I am studying but she also has a way of inspiring me to learn more. I have had many tutors and I know for a fact that Alex is by far the best. She pushes me to better myself and helps me become increasingly more interested in school. Alex helps me with whatever I need to improve on and is always the first and most excited to congratulate me on my accomplishments. After studying with Alex my grades have dramatically improved. This made it possible for me to get into a high honors English class after years of special Ed. Also with her help she made looking and applying for colleges an enjoyable experience. She is an amazing tutor and person and I can go on forever stating how much she has helped me become a confident student.
"Extremely knowledgable about the admissions process"
My daughter struggled with writing her college application essay. We were fortunate to meet Alex who not only helped our daughter select the appropriate subject matter and prepare a well-written essay, but minimized the stress and drama that comes with this process. Alex has great writing skills and she is very creative and extremely knowledgable about the admissions process. Alex is a pleasure to work with.
"Knowledgeable and Helpful"
Alex helped me with my personal statements for graduate school. It was helpful to brainstorm ahead of time because it made our sessions more productive. However, we brainstormed more throughout our sessions. She made me feel confident in my writing and the writing process less stressful. She took notes as we talked and cares about making a connection with her students. I definitely recommend her assistance! It was such a pleasure to work with her and I will be sure to keep in contact with her for future assignments!
"Far exceeded expectations"
Alex has worked with my son for three months and the improvement we have seen has been tremendous. My son went from failing in math to exceeding his peers in class. He enjoys his sessions with Alex and as a matter of fact, looks forward to her coming to tutor him, he refers to it as "so much fun and interesting". Alex provided our son with the necessary strategies to apply to solve math problems and we can see him applying those strategies in his homework assignments.  Our son went from 60's and 70's to 95 in scores for his math tests.  We are incredibly lucky and grateful to have found Alex. She has done wonders for our son and has been able to teach him in a manner where he understands and retains the information.  She has far exceeded our expectations in so little time.
"Insightful, inspirational, and enthusiastic professional"
Alex has been working with our 2nd grade daughter for over a few months now, and she has had an amazing, positive impact on her. Alex is knowledgeable, hardworking, and extremely patient with our daughter who has been having some challenges reading. Alex was able to identify our daughter's weaknesses and help provide the necessary strategies and techniques to help her improve her reading skills. Alex is an excellent tutor who my daughter says "makes reading fun"! She eagerly awaits and looks forward to her sessions with Alex as Alex never fails to have a clever game and fun worksheets for them to work on together. With Alex's help, our daughter's confidence has really grown, and her reading has significantly improved –she will actually read aloud now! We are so grateful to have found Alex – she has truly been able to teach our daughter in ways that she can understand and learn. We can't thank Alex enough for all her hard work, and would highly recommend her. If you're looking for an intelligent, dedicated and incredibly responsive tutor, look no further!
"Dedicated, professional, reliable"
Alex is an inspiring tutor, full of enthusiasm and knowledge. Her lessons are always personalized and tailored specifically to my daughter's needs.  My 5th grade daughter always looks forward to meeting with Alex, as Alex always includes activities and games that make learning fun for her. I noticed her increase in confidence and it showed through her improvement in grades. Dedicated, professional, reliable – what more could you ask for! I would highly recommend Alex without any hesitation. Thank you, Alex!
"Excellent tutor, very helpful"
Alex worked with me very diligently and helped me with several college supplemental essays. Alex knew exactly what college admissions officers were looking for which helped me include critical information in my essays. Also, I was able to engage in conversation with Alex about how to go about revising my essays. She approaches the essay sentence by sentence and makes sure that the essential question: "so what?" is always answered within the writing. I recommend Alex as a tutor for anyone in need of help for any piece of writing.
"Professional, effective tutor and advocate"
I hired Alex as a tutor and an advocate to help me prepare and receive accommodations for an NASM personal training exam. Alex was critical in helping me successfully study and prepare for the test by teaching me effective study skills and test-taking strategies. Alex was able to get NASM to provide me the full extent of accommodations that I was legally entitled to. She also made sure that the reader for my test was competent and prepared by personally escorting me to the testing center to make sure that they were following the appropriate procedures. I am extremely thankful to Alex for her dedication to my success and for helping me pass the exam.
"Terrific tutor"
Alex is well prepared and detail-oriented and works hard during the sessions to make sure my son understands what she is working on with him.
"Professional problem-solver"
My adult brother has been working with Alex for the past few months. She is amazing! I have never known someone in this profession to be so patient, insightful and so good at breaking down challenges into pieces of a puzzle in order to find the best possible solution.
"Competent, knowledgeable, and committed"
Alex was able to help me improve my study and test-taking skills and I'm so glad I hired her! I am a nursing student in a competitive program and I felt lost given the vast amount of material that I had to study. Alex helped me use recall strategies like mnemonics to remember difficult terminology for exams. She was also helpful in teaching me metacognitive strategies for focus and self-monitoring during testing. I am especially grateful to Alex for helping me navigate through the difficult "red tape" of my program. She taught me effective self-advocacy techniques so that I was able to attain the outcome I was seeking by being assertive about my rights. I am now much more confident about going into my next semester of school and feel like I have the necessary skills to succeed.
TESTIMONIALS