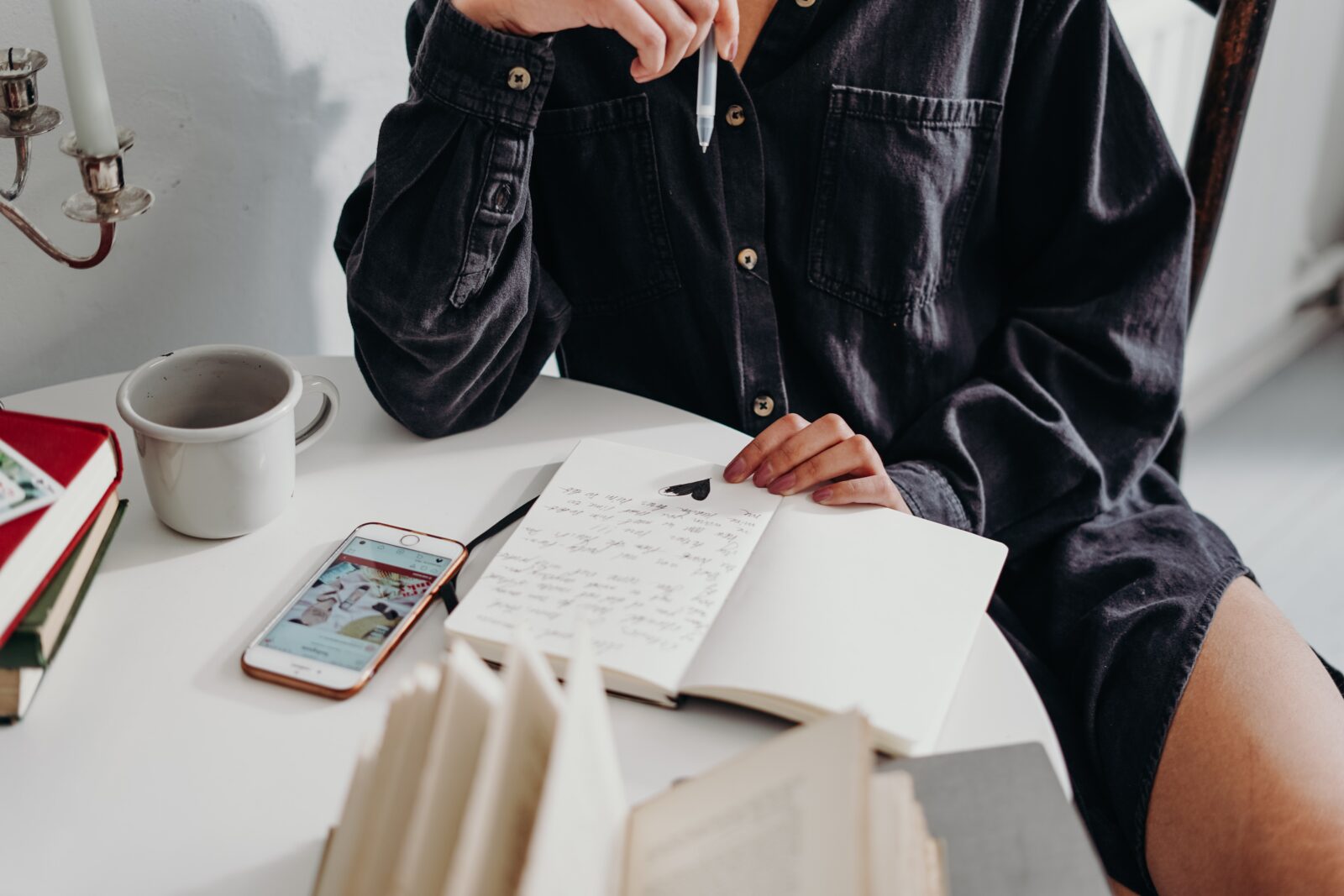 How to Use Productivity Journaling for Better Time Management
Productivity Journaling is Time Tracking
As someone who writes, thinks about, and assists people with time management, one of my best tips is for people to track their time usage. This is best accomplished via "time journaling" or "productivity journaling," which is writing down or recording your time use after tasks are completed.
A productivity journal is not a to-do list, planner, or time blocking method, which are all important tools for a productive life. While agendas, to-do lists, and calendars are essential components of effective time management, making a schedule is not the same as recording whether or not you stuck to that schedule. In fact, time journaling, or time tracking, is the other side of planning. It is the assessment of how that plan went. (Or lack thereof, if you are currently operating in your day-to-day life with minimal planning.)
A productivity journal acts as both a time tracker and a journal in that you also write down any observations about how emotional or environmental circumstances are affecting your use of time.
As I started looking more into productivity journaling for time management, I noticed that there is not a lot of discussion or literature surrounding this topic. There are many companies selling "productivity journals," but these are just run-of-the-mill planners, repackaged with a different name and with more room for journaling. There is also software for companies to track their employees' time use, but that is not the same as managing your own time.
What is Productivity Journaling?
Productivity journaling is essentially personal time tracking. This entails recording or writing down how much time we spent on individual tasks throughout the day. Productivity journaling includes recording project completion times, arrival times for meetings and social events, bedtimes, etc. A productivity journal acts as a time log, essentially an honest account of how your time was spent throughout any given day.
Productivity journaling, time tracking, and time journaling are all synonymous terms here, and I will use them interchangeably. This process of maintaining a daily log of how you are spending time can reveal how many tasks we were able to complete in a given time frame, as well as the emotional context for your use of time, and any unconscious behaviors that may be hindering your time management. Recording your time usage can show you if you are taking too long to complete a single task, if you are failing to complete important tasks on time, if you are overstudying, and if you are making progress in time management skills.
Benefits of Using a Productivity Journal
Obtain Data
Productivity journals are like food journals for those who want an honest account of their eating and dietary behavior. Productivity journaling is an honest, quantitative, data driven evaluation of where and how you are spending your time. Writing down the specific amount of time you are spending on various tasks is like maintaining a budget, where you record every expenditure.
Identify Patterns
Keeping track of our time allows us to identify patterns of behavior, as well as the amount of time we are spending on chronic time wasters like scrolling through social media feeds and distracting apps with no goal or benefit. Time journaling also enables us to identify if there are better times of day to accomplish certain tasks, and if there is something causing us to lose focus.
Improve Time Sensitivity
Tracking our own use of time also helps us to improve our time-sensitivity and time-awareness. We can start to identify when we are allowing entire chunks of time, or even entire days, float by without getting done what we want and need to.
Increase Productivity
Once we start to connect the dots between how we want to spend our time and how we are actually spending our time, we can start to more closely align our goals and behaviors. When we better understand what is holding us back from what we are trying to achieve, we can take control of our behaviors and become more productive.
Tap into Motivation
Productivity journaling allows us to take note of any social, emotional, environmental, or psychological factors that may be impacting our ability to prioritize tasks and optimally manage time. Noticing and writing down how our emotional states or life circumstances are affecting our timeliness will increase self-awareness and enable us to implement strategies to counter these effects.
Why Is No One Talking About Productivity Journaling?
Currently, an internet search for "time tracking" yields results exclusively discussing time tracking for employees and/or freelancers. There are recommendations for time-tracking apps but few articles discussing how people can use time tracking as a method to keep track of time in their daily lives. Similarly, a Google search for productivity journaling mostly results in products like weekly and monthly planners and to-do lists in various formats. These tools have great value for planning all the things you want to accomplish and future plans to do so. However, they will not help you figure out if you are spending too much time on certain tasks, whether or not you are staying focused, and if you have had a productive day.
How to Use a Productivity Journal
1. Choose a Recording System
This could be a digital tool such as an app, or an analog system like a paper journal. Many digital tools and apps exist for tracking time and managing productivity. Some are very sophisticated, but you can also use a simple notes app on your phone.
Start with the basics
Some apps, such as Toggl Track, have features that will go well beyond tracking your time. They have alarm settings and features, such as a Pomodoro Method feature, that can help you implement a plan once you have made one. I recommend starting with just tracking before you use these more advanced features. 
2. Record Events
To manually track time, as soon as you finish with a task, block of time, meeting, etc. make a quick log of what you did and how much time it took. You can and may want to do this as soon as you arrive to a social gathering if you tend to run late, and after any professional meeting or time-sensitive situation.
3. Check Your Log at the End of Every Day
Fill in as much incomplete information as possible
Gaps in logging are normal and will happen. Try writing down as much as you remember, as soon as you can, and taking notes at various points during each day.
4. Repeat for at Least Two Weeks
Longer if possible
Obtaining data for a long enough period of time will help you establish the most thorough and accurate baseline. More data will help you better create a plan for being more productive.
5. Analyze How You Are Doing
Look for patterns- are there certain types of meetings or events you consistently show up late for? Certain types of assignments you procrastinate on? Better or worse times of day? Events that trigger procrastination, lateness, time mismanagement? A certain amount of time you tend to run behind?
Make a Plan
Once you have gathered enough data over the course of several weeks, you should be able to make a plan to address areas you want to improve. This would include setting a realistic goal, and implementing specific strategies to stay productive and on task, such as the Pomodoro Method.
Productivity Journaling is NOT Bullet Journaling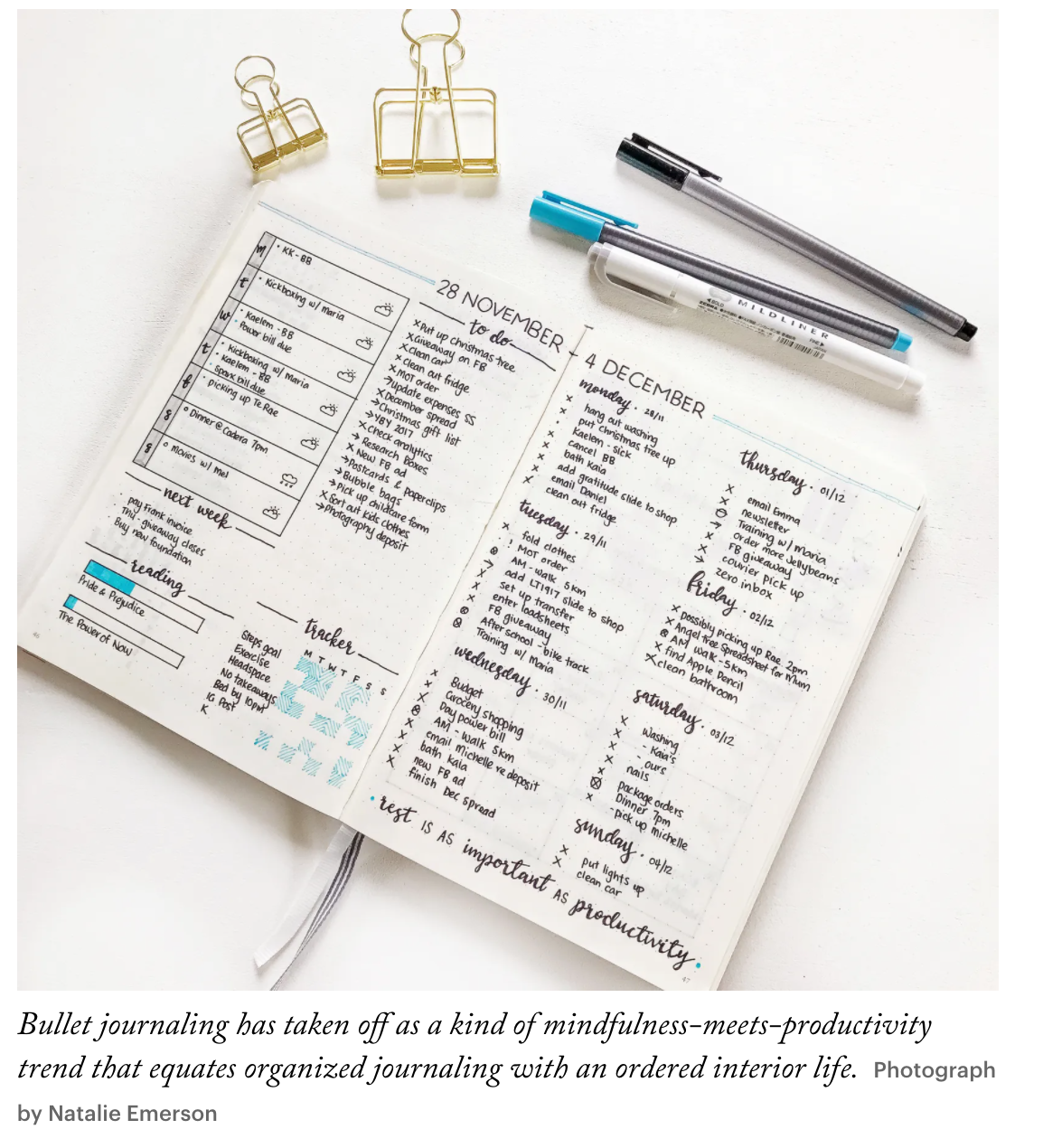 Over the last decade, a new concept called "Bullet Journaling" was introduced into our lives and vernacular. Bullet journaling is an organization system created by designer Ryder Carroll in 2013, and it has grown in popularity over the past several years. This is a complex system which requires a multi-step setup (up to 16 steps to set up this planning system!) and rapid logging of various events. Bullet journals also act as planners, rather than as time trackers, so using this method will not actually help you assess your current time management baseline.
Bullet Journaling is Complex and Unnecessary
Using a bullet journal seems very prescriptive, and the system requires so many different sections that it needs an index. Many people, especially those who already struggle with time and task management, may struggle to keep track of the various sections required to implement the bullet journal method.
A bullet journal also requires its own shorthand, so users have to learn an entire new set of symbols in order to successfully complete the required daily spreads. Every bullet journal I've seen is so visually haphazard that I'm unsure of how anyone is effectively using this system. A bullet journal seems to choatic for most people to be a useful tool for staying productive and completing one task, let along all the items on a to do list.
You don't need to use a bullet journaling system. Simpler systems will also allow you to use time blocks, stay on top of tasks, and write down your amazing ideas. There is no reason that all aspects of our lives need to be kept in a singular notebook (unless this really helps you!). Bullet journaling encourages you to create an overly elaborate system which you may lose motivation to use. While some people may benefit from using a bullet journal, it is an overly complicated system that I would not recommend for most people.
Take Control of Your Time and Tasks
Using a productivity journal to track your use of time is not a magical solution to time-management challenges. Rather, this type of journal is a helpful tool for understanding our baseline behavior. This allows us to implement the most effective strategies for managing our time, tasks, and lives in a more functional and less stressful way. Check out my top tips for time management, or contact me directly to find out about how time management coaching can help you take control of your life!
"Patient, understanding and very supportive …"
Having Alex as a tutor was amazing. She is patient, understanding and very supportive in many ways. Alex not only helped our son with his writing and vocabulary, she helped him organize his thoughts and strengthen his study skills. I highly recommend Alex as a tutor.
"Personalized teaching style, depth of knowledge, attentive manner"
When there are so many great things that can be said about a person, it is hard to find the right words that truly satisfy that person's character. I first began working with Alex when I was a freshman in high school. Not having success with previous tutors, I concluded that tutors simply are not for me. However, Alex showed me otherwise; her personalized teaching style, depth of knowledge, attentive manner, and even sense of humor is above any tutor I've ever encountered. Beyond the skills that make Alex an effective yet enjoyable tutor, she also provides insight and guidance to those who are struggling in certain areas of their life. I have sought Alex's help with challenges both big and small, and she always steers me in the right direction while teaching me important life skills in the process. As I am now approaching my senior year, I am overwhelmed with feelings of confidence and excitement because I know that I will have Alex by my side.
"Effective, Articulate Advocate"
I hired Alex to help me obtain a private school placement at the district's expense for my 3rd grader, who is nonverbal and autistic. After hiring an ineffective attorney for the same purpose when my son was in first grade, Alex was able to accomplish this goal and got my son a placement in a specialized, private school program. While this endeavor took months of work, meetings, emails, and school visits to accomplish, my son is now in an appropriate program where he is able to learn and thrive. Additionally, Alex was able to get the school district to provide every single service, accommodation, and technology that I was requesting for my son. Alex is assertive, articulate, and knows the law and best educational practices. As such, she effectively and vociferously advocated on my son's behalf and accomplished all of my goals. I highly recommend her to anyone in need of an advocate!
"High Quality Tutor"
Alex is a highly skilled and knowledgeable writing teacher. Warm and nurturing. Reliable. Made learning meaningful, engaging and fun. Definitely recommend and will use again.
"Knowledgable and Dedicated"
I must admit that I was absolutely fortunate when I stumbled upon Alex's website during my internet search a year and a half ago. I was desperately looking for someone to proof read my papers and assist in guiding me throughout the pursuit of my doctorate degree. With the guidance, support, and constructive criticism from this very knowledgeable, insightful, and patient individual I received As in all my courses. I truly enjoyed working with Alex.
"The Best Tutor"
Alex is very well-versed and knowledgeable about many subjects. I have not been in school in over 20 years and now I am back to obtain my doctorate degree. Alex has helped me get organized and has assisted me with my APA citations, grammar, and word choice. My writing skills have improved significantly and every one of my papers has received an A. Alex has provided me with the skills I need to continue my studies. I am so lucky to have met Alex.
"Awesome Teacher and Person"
Amanda: I am a student of Alex's. I would recommend Alex to other students because she pushes you, gives you confidence, and she has a great sense of humor. She turns around any of your negative feelings into positive ones so you can believe in yourself to succeed.
Doretta: I am Amanda's mom. Alex has a tremendous amount of patience. She is creative, funny, and very knowledgeable of her material. Alex tutored my daughter to obtain a driving permit. This was a major challenge for Amanda. Aside from needing help to learn the material, Amanda also has severe test anxiety. Amanda also has had many many tutors throughout her life. Alex not only helped Amanda learn the material and prepare for the test, but also made her believe in herself and decreased her anxiety. She is truly an awesome teacher and person. I highly recommend her to any struggling student.
"Hardworking and dedicated"
Alex is a hard working and extremely dedicated person. Not only is she able to help me better understand what I am studying but she also has a way of inspiring me to learn more. I have had many tutors and I know for a fact that Alex is by far the best. She pushes me to better myself and helps me become increasingly more interested in school. Alex helps me with whatever I need to improve on and is always the first and most excited to congratulate me on my accomplishments. After studying with Alex my grades have dramatically improved. This made it possible for me to get into a high honors English class after years of special Ed. Also with her help she made looking and applying for colleges an enjoyable experience. She is an amazing tutor and person and I can go on forever stating how much she has helped me become a confident student.
"Extremely knowledgable about the admissions process"
My daughter struggled with writing her college application essay. We were fortunate to meet Alex who not only helped our daughter select the appropriate subject matter and prepare a well-written essay, but minimized the stress and drama that comes with this process. Alex has great writing skills and she is very creative and extremely knowledgable about the admissions process. Alex is a pleasure to work with.
"Knowledgeable and Helpful"
Alex helped me with my personal statements for graduate school. It was helpful to brainstorm ahead of time because it made our sessions more productive. However, we brainstormed more throughout our sessions. She made me feel confident in my writing and the writing process less stressful. She took notes as we talked and cares about making a connection with her students. I definitely recommend her assistance! It was such a pleasure to work with her and I will be sure to keep in contact with her for future assignments!
"Far exceeded expectations"
Alex has worked with my son for three months and the improvement we have seen has been tremendous. My son went from failing in math to exceeding his peers in class. He enjoys his sessions with Alex and as a matter of fact, looks forward to her coming to tutor him, he refers to it as "so much fun and interesting". Alex provided our son with the necessary strategies to apply to solve math problems and we can see him applying those strategies in his homework assignments.  Our son went from 60's and 70's to 95 in scores for his math tests.  We are incredibly lucky and grateful to have found Alex. She has done wonders for our son and has been able to teach him in a manner where he understands and retains the information.  She has far exceeded our expectations in so little time.
"Insightful, inspirational, and enthusiastic professional"
Alex has been working with our 2nd grade daughter for over a few months now, and she has had an amazing, positive impact on her. Alex is knowledgeable, hardworking, and extremely patient with our daughter who has been having some challenges reading. Alex was able to identify our daughter's weaknesses and help provide the necessary strategies and techniques to help her improve her reading skills. Alex is an excellent tutor who my daughter says "makes reading fun"! She eagerly awaits and looks forward to her sessions with Alex as Alex never fails to have a clever game and fun worksheets for them to work on together. With Alex's help, our daughter's confidence has really grown, and her reading has significantly improved –she will actually read aloud now! We are so grateful to have found Alex – she has truly been able to teach our daughter in ways that she can understand and learn. We can't thank Alex enough for all her hard work, and would highly recommend her. If you're looking for an intelligent, dedicated and incredibly responsive tutor, look no further!
"Dedicated, professional, reliable"
Alex is an inspiring tutor, full of enthusiasm and knowledge. Her lessons are always personalized and tailored specifically to my daughter's needs.  My 5th grade daughter always looks forward to meeting with Alex, as Alex always includes activities and games that make learning fun for her. I noticed her increase in confidence and it showed through her improvement in grades. Dedicated, professional, reliable – what more could you ask for! I would highly recommend Alex without any hesitation. Thank you, Alex!
"Excellent tutor, very helpful"
Alex worked with me very diligently and helped me with several college supplemental essays. Alex knew exactly what college admissions officers were looking for which helped me include critical information in my essays. Also, I was able to engage in conversation with Alex about how to go about revising my essays. She approaches the essay sentence by sentence and makes sure that the essential question: "so what?" is always answered within the writing. I recommend Alex as a tutor for anyone in need of help for any piece of writing.
"Professional, effective tutor and advocate"
I hired Alex as a tutor and an advocate to help me prepare and receive accommodations for an NASM personal training exam. Alex was critical in helping me successfully study and prepare for the test by teaching me effective study skills and test-taking strategies. Alex was able to get NASM to provide me the full extent of accommodations that I was legally entitled to. She also made sure that the reader for my test was competent and prepared by personally escorting me to the testing center to make sure that they were following the appropriate procedures. I am extremely thankful to Alex for her dedication to my success and for helping me pass the exam.
"Terrific tutor"
Alex is well prepared and detail-oriented and works hard during the sessions to make sure my son understands what she is working on with him.
"Professional problem-solver"
My adult brother has been working with Alex for the past few months. She is amazing! I have never known someone in this profession to be so patient, insightful and so good at breaking down challenges into pieces of a puzzle in order to find the best possible solution.
"Competent, knowledgeable, and committed"
Alex was able to help me improve my study and test-taking skills and I'm so glad I hired her! I am a nursing student in a competitive program and I felt lost given the vast amount of material that I had to study. Alex helped me use recall strategies like mnemonics to remember difficult terminology for exams. She was also helpful in teaching me metacognitive strategies for focus and self-monitoring during testing. I am especially grateful to Alex for helping me navigate through the difficult "red tape" of my program. She taught me effective self-advocacy techniques so that I was able to attain the outcome I was seeking by being assertive about my rights. I am now much more confident about going into my next semester of school and feel like I have the necessary skills to succeed.
TESTIMONIALS